Festival Zone
Welcome to Festival Zone for the final week of the Auckland Festival of Photography for 2011.

Congratulations to Mareea Paterson - Winner of the 1st Prize in Nikon Auckland Photo Day 2011 with her Boy Sees Light image below. Over 1350 entries were sent in and the Top 30 winners and runners up were selected by judges Greg Olesen, Nikon; Chris Traill FNZIPP and artist Edith Amituanai. They said "This photograph encapsulates the modern, hussle and bustle of city life symbolising the inquisitive nature of childhood against a backdrop of a crowd of strangers. The image is strong in design with a futuristic treatment".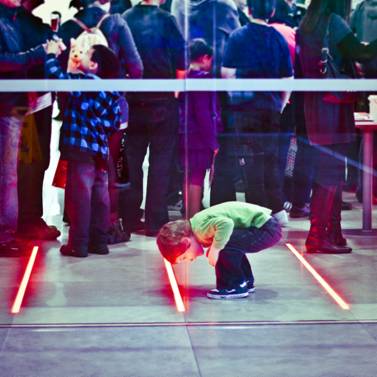 Mareea has won this excellent camera, a Fullers Ferry Family Pass to Waiheke and Wine Tour, and a set of NZ Post personalised stamps featuring her winning image.
A Nikon D7000 Kit with 18-105 lens -
2nd prize was given to Jocelen Janon, for Fish To Live taken on Old Mangere Bridge and 3rd prize winner was Peter Denniston with The Rat Cage taken from Northcote Point. The 4th prize winner was Suresh Patel with a photo taken at Saturday morning sport, 5th prize went to Sandrina Huish, with an image taken in Ponsonby and 6th prize winner was Joanna Morrison, with an image depicting a typical West Auckland Saturday morning, reading the papers in bed. Regarding the entries overall, the judges were impressed by "the many eyes of Aucklanders that have captured the contrasting moods and activities of the day". The full Top 30 winners will be viewable on the website later this week.
Exhibitions open now -
Check out the Festival Calendar for details on the great shows open till Sunday 26th June or into next week. Be sure to make the most of this last week of the Festival and see as many shows as you can - visit the Festival Calendar on the website to see which shows are still on. Three exhibitions we highly recommend that display the talents of under-celebrated, hidden gems of NZ's photography history are Annie Get Your Gun - Barbara Smith, Snapshots of the 70's - Sunil Azariah and Q - The Tornquist Brothers. See them while you still can.
Thanks to all of the residents of Auckland and overseas visitors who have sent us emails with positive feedback. We are delighted that our number counters have recorded a 20% increase in attendance figures across the region so far, with approximately 43,000 visits to exhibitions and events since the start of the Festival. We appreciate your appreciation! And of course a huge thank-you to our brilliant and talented overseas guests to the Festival - Sascha Weidner, Tim Page and Stephen Dupont whose contribution has been immeasurably inspiring. We hope we can continue to bring international photographers of their calibre to future Festivals to inject their knowledge and experience into Auckland.
Auckland Photo Blog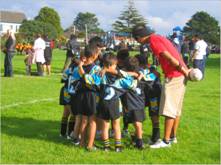 Don't forget you can still contribute to our online Rugby photo exhibition on the Auckland Photo Blog. Our Rugby theme is running right through till the end of June and gives you the opportunity to display photos of your friends' or your family's team at any age, code, level or gender to celebrate the true Rugby culture of Auckland at a grass roots level. Send in your photos here.
Donations
We are a not-for-profit organisation which relies on sponsorship, grants and donations to deliver effectively to the entire Auckland Region a free yearly festival. The Festival is run by a registered charitable trust and as such has donee status with the IRD - this means that you are able to claim back a percentage of any donations in tax credits. So instead of us knocking on your door, cap in hand, payroll giving can be a quick and convenient way to donate by direct credit into the Trust bank account.
If you can, help us continue to deliver this siginificant annual free Festival that enables Aucklanders to actively engage in the artistic expression of their diverse cultures and views through photography. Contact us on info.photo.festival@xtra.co.nz for more information and see the Charities Commission website for all statutory information about the Trust.
Photoforum & Pecha Kucha event
This Festival's Photoforum Pecha Kucha event was a great night with great speakers sharing the knowledge behind their photography, Pecha Kucha style. And we need to make a correction to our last newsletter - all of the proceeds from the evening went to the Pecha Kucha operators.
Follow us
Join our fans here -


.
Auckland Festival of Photography is supported by;
MAJOR FUNDER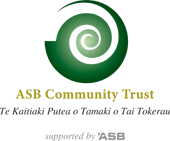 Sponsored by Auckland Council, Gravity, Nikon
Media Partner: D Photo
Public funding support from Creative New Zealand, Asia NZ Foundation, Lion Foundation, Rodney District Creative Communities, Auckland Council, North Shore City Creative Communities, COGS Auckland, COGS Manukau and The Trusts Charitable Foundation.
Thanks to Singapore Airlines - our preferred airline.
Foundation Member of

Privacy - The Auckland Festival of Photography does not sell or otherwise distribute this mailing database.