Welcome to Festival Zone for May 2017. We are happy to share this year's Festival programmes, our pocket guide and limited edition booklet with you for reading online, click on the image by Rona Ngahuia Osborne and Dan Mace – Whenua detail from elemental 1. Corbans Estate Arts Center, 2 June - 16 July. Plus there are print copies available at the Festival office now.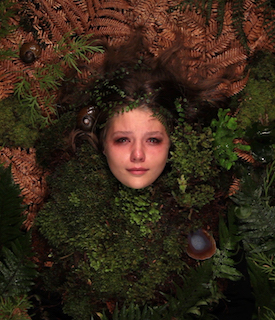 ---
Talking Culture - Queens Birthday weekend

Our international guest curator, Bangladeshi artist, activist and curator, Dr Shahidul Alam, along with our international guest artists, joining with NZ artists, will share their ideas, answer your questions and engage in a stimulating, exciting, critical & challenging series of sessions over the 2 - 6 June period. Kicking off with our inaugural 'Photobook Friday' at the Central Library we invite you to come along, grab a bean bag and chill out with us for some wonderful conversation and insights with Ingetje Tadros (Australia), Mayumi Suzuki (Japan), Judith Crispin (Australia) and New Zealand artist Wendy Brandon, publisher Kriselle Baker. And it's FREE. Friday 2 June starts midday. Thanks to Asia New Zealand Foundation and Australian High Commission.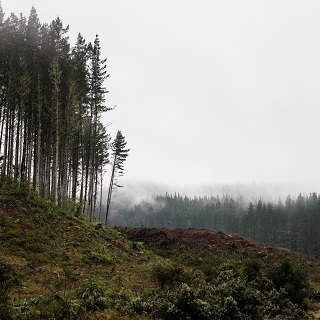 Wendy Brandon - The Rememberance Project
---
On Saturday 3rd June we hear from the talented, contemporary visual artist, Janet Lilo in conversation with Dr Shahidul Alam about her Annual Commission 2017, presented by Baker+Douglas and supported through Creative New Zealand. 12pm in the AAG Auditorium. Then stay around for 2 more engaging and unique experiences with Identity curator Dr Shahidul Alam from 1pm on his ideas and curation of this year's Festival theme at Silo 6. He will converse about the work of late J.D. 'Okhai Ojeikere (Nigeria), Kim Hak (Cambodia), Dina Goldstein (Canada), Sharia Sharmin (Bangladesh), Çağdaş Erdoğan (Turkey), Pushpamala N (India). Not to be missed!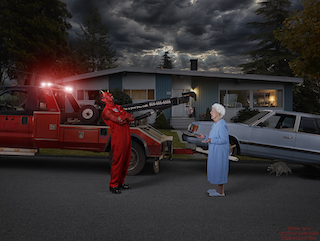 Dina Goldstein - Satan, from 'Gods of Surburbia'
Then at 3pm joining the Identity + Photography panel discussion are two of the exhibiting artists, Emily Mafile'o and Raymond Sagapolutele, in this years showcase of Maori & Pacific photography - Ata Te Tangata, curated by Rosanna Raymond (currently on a Fellowship at The Met NYC), they join a large, lively group session - Shahidul Alam, Mayumi Suzuki, Scott A. Woodward, James Dooley, Ingetje Tadros, Doris De Pont - exploring the questions posed by the fluid nature of both personal, national and cultural identity and photography's role in it.
---
On Sunday 4th June join two more fabulous speakers, Scott A. Woodward from Singapore as he shares his experiences from North Korea where he documented the series 'All The World's A Stage' and from the USA is James Dooley, Alexia Foundation, who will talk on their 25 year anniversary and on the power of photojournalism for social change . You can see all our Talking Culture events here and book in if you want to, they all free, it's first come, first seated.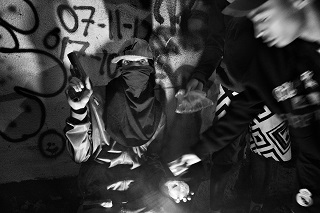 Sebastien Liste/NOOR/Alexia Foundation. CARACAS, VENEZUELA - APRIL 2013: "Sicario" showing his gun. He is just 18 years old and said he already killed more than 30 people. Those armed kids control the drug traffic in their neighborhood close from downtown Caracas, Venezuela. In Venezuela more than 2500 people were killed 2013.  
---
The Spirit of Motion Award by Mazda
Are you exhibiting in this year's Festival? Are you New Zealand based? Then you are eligible to submit two images on our theme 'The Spirit of Motion' for consideration for this new Award sponsored by Mazda. Deadline is 22 May 2017. Full details, terms, conditions and application form - Award has a Cash Prize $2000 plus certificate. This could be yours. Announcement made 1st June.

---
Core progamme
At Sanderson Contemporary Art Gallery in Newmarket is 'Single Channel', as part of the Core programme from 23 May, featuring work by Kate van der Drift, PJ Paterson, Wendelien Bakker, Olivia Blyth, Talia Smith (Aust), Jude Broughan (USA).
Italian Photography Project, a selection of some of Italy's most well known photographers, classics and contemporary work is curated by PhotoLux in Lucca, Italy. Screening for one week at Northart from 2 June.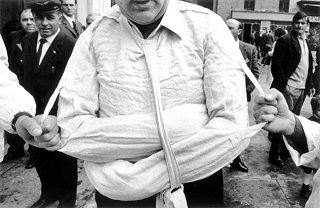 Gianni Berengo Gardin (c)
---
Satellite shows

An amazing line-up of talented photographers in 50 Satellite exhibitions across the region, so get your diary planners ready, or you can use our new downloadable programme app - coming soon.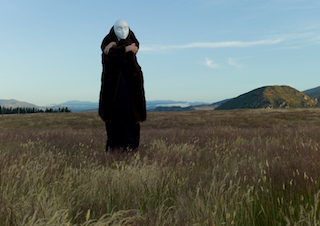 In central Mt Eden is Lara Gilks (image above) in 'Disquiet'. Lara is a Wellington based emerging artist with a show at Studio 541. Opens 25 May 6pm. Her work seeks to challenge our reality through the use of incongruous elements in an image. This creates a disquiet in the image and may be unexpected, evocative, haunting, beautiful. Over in Henderson is Fiona McLeod at the Barrel Room with her Migration images from Western Mongolia where she travelled with 1000 animals across this exotic country and in Northcote Point is Beatrice Carlson at Blikfang with 'Objects of Desire', a visual discussion about fashion, image, identity.
Central  + North Shore  + Waitakere + Rodney + South
---
Asia Pacific Photoforum

Ballarat International Foto Biennale is back in August under the new direction of Fiona Sweet, who is in the hot seat to re-position this new edition and take BIFB to new heights. Proof of this lies with recently announced exclusive headline exhibition by David LaChappelle, his work is a critique of 20th Century pop culture with beautifully strong and vibrant images. It's clear the new direction seems to be spinning a wonderful web of delight for visual celebrants from across the globe. Closer to home within Australia, BIFB has announced a brand new prize for portraits of a significant Australians (of course we Kiwis would struggle to recognise many of these types of Antipodean subjects), but we'd have to say with a whopping A$15,000 acquistional prize you might want swat up and start photographing some.
Check it all out on BIFB's website. 19 August - 17 September, Ballarat, Victoria.