Festival Zone
Welcome to Festival Zone for April 2014. We are delighted to announce the new expansive Festival programme for 2014 is now published.

Auckland Festival of Photography 2014 across Auckland region
11th Auckland Festival of Photography
This June marks the 11th annual Auckland Festival of Photography, the largest visual arts event in the Auckland Region and in New Zealand. We are delighted to announce alongside our Signature programme of prominent national and international talent and the open access Fringe programme is a suite of exhibitions exploring Memory within the 6 Silos in the newly developed Wynyard Quarter and other venues across Auckland city. Included in the Memory theme is Israeli Ayala Gazit's photographic exploration of the traces of her deceased brother, video performances by Japanese artist Tatsumi Orimoto and his mother with Alzheimer's and the Annual Commission by Sacred Hill features the re-presentation of historical images of Pacific Islanders by our 2014 commissioned photographer Tanu Gago.

The 2014 Talking Culture Symposium (Sat 31st May) in the Auckland Art Gallery auditorium explores indigenous cultural memory with speakers Ans Westra, Qiane Matata-Sipu, Aboriginal photographer Wayne Quilliam and National Geographic Photographic Fellow Chris Rainier. Other Memory highlights include a 40 year retrospective exhibition of Photoforum, Rob Gilhooly's documentation of the objects left behind in Japan's "Suicide Forest" and Bronek Kozka's landscapes from Auschwitz.
Signature exhibitions have some excellent group shows, highlights include McNamara Gallery Photography Exhibition, Flora Photographica Aotearoa, Matakana group, Mata Waka and NZIPP Iris Awards 2013. The annual winter Festival is a highlight of the Auckland event calendar and draws a large regionwide audience and international visitors. Festival programmes can be downloaded or viewed on our website or we have printed copies available at our office in Parnell. Email info.photo.festival@xtra.co.nz if you need some.
Nikon Photo Contest 2012 -2013 award winners
Dina Bova - Elegy of Autumn - Nikon Photo Contest 2012-2013 Grand Prize
On show in the Signature programme, direct from Tokyo, is the international exhibition the Nikon Photo Contest 2012-2013, an exhibition of the award winning images selected from the over 99,000 submitted photographs from across the world. Chris Rainier was Lead Judge on the Nikon Photo Contest 2013 and he will give a talk about the winners on May 30th.
---
Auckland Festival of Photography will include Auckland's very own photo competition, Nikon Auckland Photo Day on Saturday, June 7, when you have 24 hours to capture your own prize winning image of a day in the life of Auckland.
Nikon 1st Prize camera is their first "shoot and share" DSLR D5300!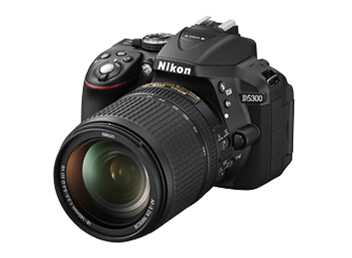 NIKON D5300 w AF-S DX NIkkOR 18-140MM VR LENS
Lightweight, full-featured DX-format D-SLR with 24.2-megapixel CMOS sensor, 39-point, and Full HD movie recording. Nikon's first DSLR to feature a built-in Wi-Fi®, so you can instantly transfer your photos*. Crystal-clear 3.2-inch LCD vari-angle monitor lets you shoot at any angle.
Plus a Lexar JUMPDRIVE S50 8GB
Plus 1 x DVD on Photographer Annie Liebowitz: Life Through a Lens
For 2nd and 3rd place prize cameras, Top 30 prizes and People's Choice 2014 see here.