Welcome to Festival Zone for January 2015. We wish everyone a Happy New Year. We hope you had a great summer holiday during the break.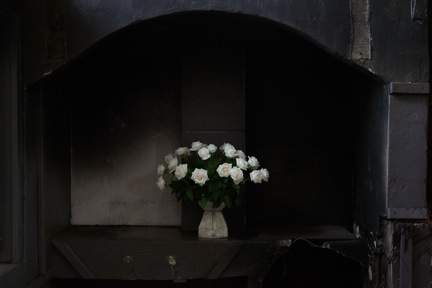 Still Life by Roberta Thornley - Annual Fine Arts Commission 2011
---
2015 Annual Commission by Sacred Hill

2015 is the fifth year of the Auckland Festival of Photography Annual Fine Arts Commission, in which one of three shortlisted photographers will be commissioned to produce a new body of work especially for the Festival in June. We are pleased to announce the 3 shortlisted photographers for this year, currently under peer review are:
Chloe Riddell works in analogue photography, originally working in black and white medium format and now colour large format photography. Her work overlaps the documentary and fine art genres and reveals an autobiographical focus which seeks to make sense of who she is and where she is from.
PJ Paterson works in digitally manipulated photography as well as a range of other media to critique modern society and the dominant ideologies of capitalism and consumerism reinforced in contemporary culture and the media.
Ane Tonga is an artist and curator and graduate of Elam School of Fine Arts. Her exhibition Grills at the Gus Fisher Gallery in 2014 was part of the Auckland Festival of Photography in 2014. In this exhibition, she photographed family members with nifokoula, the gold plating of teeth which is a quite recent kind of cosmetic adornment for Tongans. She curated the exhibition Urban Drift at Papakura Art Gallery which opened in November 2014.
Sacred Hill Vineyards will present this year's Annual Fine Arts Commission for the Auckland Festival of Photography. Sacred Hill Managing Director David Mason said the company is delighted to sponsor the Annual Fine Arts Commission and help the festival support and promote emerging photographic talent.
"Each of these gifted artists has sought to craft something meaningful and memorable, true to their individual philosophies and styles. We take our hats off to them. It's something we strive to do every day with our winemaking and we know the dedication it takes. We're thrilled to continue our support of the Annual Fine Arts Commission by Sacred Hill," said Mr Mason.
As part of the 5th year milestone the international Asia Co-commissioning Fund from Creative New Zealand has given a grant to support the 2015 Annual Commission artist to create the new work to be shown in China within the annual Pingyao International Photography Festival in September 2015. This is a huge development for the Annual Commission project and endorsement of the importance of the Annual Commission plus work done within the Asia Pacific to present and promote New Zealand photography by the Auckland Festival of Photography. We a very pleased to be able to offer this additional international opportunity to the finalist selected in our milestone 5th year.
This year's selection panel will include Elaine Smith, Festival Commission curator, Linda Tyler, Director, Gus Fisher Gallery, Auckland and Amy Lui, International Curator/Director, Pingyao International Photography Festival, China.


---
Auckland Festival of Photography 2015
We are planning now for our next Festival which will take place from 28 May to 20 June 2015. Expressions of interest are open until 31st January 2015 and new details on how to take part in the Fringe programme can be found on our website. As with this 2014 programme, the 2015 Festival programme is in three parts:
Themed : By Invitation - The new curated theme for 2015 is Truth and Fiction.
Expressions of Interest open now:
Signature : By Selection
Fringe : Open access & Administration Fee
---
Advertising - Auckland Festival of Photography 2015
We are a registered charitable trust that survives, develops and grows with the support of financial stakeholders, sponsors, advertisers, grants, donations. We want to keep the Festival free to the public and open to participation by everyone, so we are seeking advertisers to support the next 2015 Festival printed programme. Please contact Bev Goodwin, Marketing Co-ordinator by mid February for bookings. Email or phone contacts are here: http://www.photographyfestival.org.nz/contact.cfm. All private donations are eligible for tax relief as the Trust is registered with the Charities Commission, if you would like to get some tax relief we are a donee organisation with the IRD. See our home page for how to donate.
---
Asia Pacific Photoforum
Coming up this month in our international network are Chobi Mela Photography Festival in Dhaka, Bangladesh followed early in February by the Chiang Mai Documentary Arts Festival in Thailand. Chobi Mela is on it's 8th edition and is a Biennale event, whilst Chiang Mai is having it's 4th annual Festival. News from our other members includes Head On Festival in Sydney opening for submissions to their annual Head On Portrait Prize with Landscape, Moblie and Multimedia categories also, entries open on 15th January. New APP members Obscura Festival of Photography, Penang, Malaysia work closely with the annual Kuala Lumpur Portrait Photography Award which is open now for entries from photographers from any country until late February. And open now until 1st May is a call for entries at Australia's Ballarat International Foto Biennale which has Fringe registrations open, read their T & C's here. So many international opportunities for Auckland and NZ photographers to participate in.
Higashikawa International Photography Festival in Hokkaido, Japan, have been working with us recently and as part of this exciting new phase is the visit to NZ later this month by Aki Kusumoto, the Director & Curator of the annual Higashikawa Awards Exhibition at Higashikawa Festival in Japan. Aki will be visiting on a research trip to meet Higashikawa's selected shortlist of 10 New Zealand photographers, these international awards take place in Japan annually and we are delighted that in 2015 New Zealand has been selected as the country for the award. The New Zealand recipient will be announced later in 2015.
More on the Asia Pacific Photoforum can be found on our Latest News and Facebook page, like us and keep up to date.