Welcome to Festival Zone, this month about the presentation of key New Zealand photography during the 2015 Auckland Festival of Photography programme. We are proud to be supporting New Zealand's culture and identity through the lens of dozens of our country's best practitioners.
Lest we forget.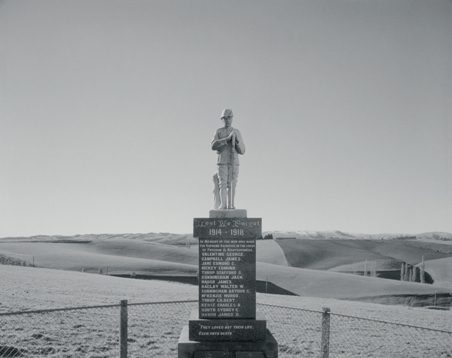 Laurence Aberthart - ANZAC - Dunrobin, Edievale, Otago, 25 June 2012
Auckland Festival of Photography 2015 full programme is now available online and printed copies are now at venues, libraries and community spaces in your Auckland area.
---
Talented Nation - Flying the flag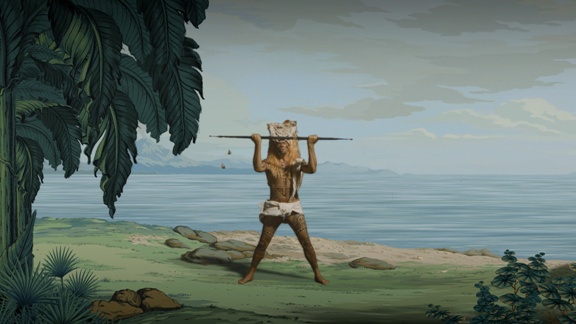 Lisa Reihana, in Pursuit of Venus (still), 2015, Auckland Art Gallery Toi o Tamaki, gift of the Patrons of Auckland Art Gallery, 2014
Key exhibitions at the Auckland Art Gallery Toi-O-Tamaki feature the world premiere of new work by Lisa Reihana with in Pursuit of Venus [infected] from early May and from 30 May Laurence Aberhart with ANZAC.
From curator Anita Totha is Lay of the Land at Papakura Art Gallery starting May 2 featuring David Cowlard, Conor Findlay, Derek Henderson, Anton Maurer, Solomon Mortimer plus others. Eminent established photographer Anne Noble ONZM is at Two Rooms with No Vertical Song, while practitioner Fiona Amundsen develops the Japanese war story with The Imperial Body at Gus Fisher Gallery, environmental photographers Peter Evans and Murray Lloyd at The Depot, and tattoo culture from Helen Mitchell at Northart. Also showing is Jae Hoon Lee at Trish Clark Gallery, Joyce Campbell at Uxbridge Centre for the Arts, John Fields at Gus Fisher, Leon Rose at Whitespace. In a group show are Stella Brennan, Chris Corson-Scott, Michael Ghent, Marie Shannon, Ann Shelton, Vincent Ward, Christine Webster at Trish Clark Gallery, while in Matakana we have veteran of Reel Pictures photographer Ian Macdonald with many more like Murray Savidan and Davina Monds. From the Matakana countryside to the cafes near K Road is Jocelyn Carlin, to Orexart with Ellie Smith, David Austin, Sonja Gardien, Stacey Simpkin and not forgetting a group show Nothing Lost at Corban Estate Arts Center including Darren Glass, whilst Stephanie O'Connor is at the Pah Homestead. One for the peaceniks with his international photography project, Peace in 10'000 Hands, is Stu Robertson and at the Waitakere Central Library is the venerable John B Turner with his next instalment of his study of life in West Auckland with Te Atatu Me. We are proud to support the cultural identity created by these wonderful New Zealand artists and to acknowledge those who have sacrificed so much for so many in the pursuit of freedom of expression and self determination. We are a proud talented nation of New Zealanders and this week we should all celebrate our hard won rights, freedoms and responsibilities with each other. Lest we forget.
At the heart of the Festival programme, we are delighted to be celebrating our 5th Annual Commission of New Zealand photography by Sacred Hill. We wait with anticipation to tell you more about the new work PJ Paterson is creating for the Festival. Paterson's photography is an exhilarating mix of contemporary aesthetic and political engagement and we are very proud to support him. There will also be an opportunity in this 5th celebration year to see all previously commissioned work since 2011 by Roberta Thornley, James K Lowe, Jennifer Mason and Tanu Gago at the Pah Homestead. We are also delighted to announce that Tanu Gago's work will be seen at the Head On Photo Festival in Sydney, exhibition opening on 6 May, congratulations to Tanu and also for his work being published by The Guardian.
Festival programmes can be downloaded or viewed on our website or we have printed copies available at our office in Parnell. Help distribute them to your local community/area/neighbourhood. Email info.photo.festival@xtra.co.nz if you can spare time to volunteer during the Festival's 3 weeks we need exhibition sitters, drivers, and general Festival events assistance.
---
Magnum Workshops
Still time to apply for this wonderful experience of a lifetime in Auckland from 28 May to 1 June (over Queens Birthday weekend) - Limited places, apply now to share this experience. Professional development for all levels. From students to working professionals. Deadline extension to May 3 (due to 26 April being over the ANZAC weekend holiday).
In collaboration with: Whitecliffe College of Arts and Design
Directed by the three amazing Magnum photographers Thomas Dworzak, Olivia Arthur and Chien-Chi Chang, they will offer a new unique intensive photography experience in Auckland through a daily program of shooting, reviews, group critiques, mentoring and editing sessions.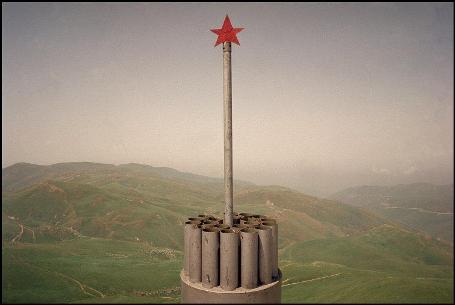 c Thomas Dworzak/Magnum Photos - Image credit: RUSSIA, Republic of Daghestan, July 2000. Near the town of Andi, on the Chechen border. Memorial for a dead Russian soldier.
Full fees and details here Magnum Workshops Auckland.
---
Programme changes & updates
As with all public programmes things change and details get lost in translation!
Here are the new exhibition, talks and projection dates for:
Mikolaj Nowacki - Odra series
Angkor Photo Festival Slideshows - Silo 6 - 3.45pm Mon 1 June: TALK - Mikolaj Nowacki discusses his project Odra where he explores the river area of his youth and his work with local barge operators that capture traditional life in Poland in a contemporary photographic setting. Silo 6, Wynyard Quarter. Bring warm coats and scarves, limited heating and seating.
Land and Sound - Audio Foundation - Opens now on 4th June to 27 June. Artist talk by Rhona Clews on Saturday 6th June at 2pm. Free.
Future Projections - Studio One Toi Tu - Opens now on 27 May to 10 June, with special evening event on Whitecliffe Festival Tuesday 6pm 2 June.
Auckland Art Gallery talk on 21st June by Ngahiraka Mason is cancelled due to a change of schedule at the Gallery. A new talk by Sandy Callister will be presented at 1pm in the Auditorium, more details coming soon on our Talking Culture section presented by HP. Additional participants for the Momento Pro Panel at our Talking Culture Symposium "Photobook Stories" on May 30th at 3pm are also now confirmed, so the full panel will be, hosted by Libby Jeffrey:
Anita Totha of Remote Photobooks + Tangent Collective
Mindaugus Kavaliauskas of Kaunas Photo Festival
Haruhiko Sameshima of Rim Books
David Cook of Massey University
Doug Spowart of the Australian Library of Art
NZIPP Iris Awards 2014 exhibition includes a select few of the stunning portraits from the NZIPP Anzac Project. This was a massive project where NZIPP photographers throughout the country undertook to make portraits of all the remaining WW11 Veterans still with us today.