Welcome to Festival Zone for the final week of the 2015 Auckland Festival of Photography.

Gil Hanly - Sinking of the Rainbow Warrior- Lot 17 gelatin silver print 256mm x 390mm
Final week
We would like to thank everyone involved in this year's Festival, it has been a wonderful experience for the last few weeks, with lots of energy, discussions, debate and quiet contemplation on the contemporary photography scene here and internationally. Even though this week is the final week for the 2015 Festival there is still lots to see and do, with many exhibitions and projections and talks in the next week for you to enjoy.
Make sure you see all works in our exclusive 2nd small auction, there are many more great prints to be auctioned in our 30th June 2015 Auckland Festival of Photography charity fundraiser, see full online catalogue now, more details on viewing times here - Charity Auction
Buy a piece of culture for your photography collection, above is Lot 17 by Gil Hanly, this is a slice of New Zealand's cultural history and it could be yours!
Auckland Festival of Photography is a registered charitable trust, number CC38839.
---
What's happening this week?
Full calendar of exhibitions open this week and events on our website.
These are the Festival's series of free talks, screenings happening at various venues this week in the Festival;
Last day tomorrow only at Silo 6, 17th June closes 430pm - Angkor Photo Festival & Workshop slideshows featuring -
Hossein Fatemi (Iran) An Iranian Journey
Vincenzo Floramo (IT) Trans Pakistan
Eduardo Garcia (Cuba) The Wall of The Wonders
Sam Harris (AUS/UK) The Middle of Somewhere
Steve Hart (USA) 'A Bronx Family Album: The Impact of AIDS
Boryana Katsarova (Bulgaria) Freezing
Pascal Maitre (France) Magical Kinshasa
Mikolaj Nowacki (Poland) Odra
Aujin Rew (South Korea) Where we Pray/In a Private Moment
Rubén Salgado Escudero (Spain) Solar Portraits
Closing 19th June at 4pm - Magnum Photos 'Offside Brazil' project produced with the support of Save the Dream, Instituto Moreira Salles and ESPN exhibition closes on June 19th at 4pm. See two videos during the Magnum Photos exhibition - one is an Offside Brazil project video (7' 36" duration) featuring all the photographers involved, both Brazilian collectives and Magnum photographers and the other is a solo short film (8'36" duration) produced by Jonas Bendiksen. Aotea Centre, Queen Street, Auckland. Magnum photographers Susan Meiselas, David Alan Harvey, Jonas Bendiksen and Alex Majoli work captures the essence of Brazil whilst hosting the 2014 FIFA World Cup. Don't miss this!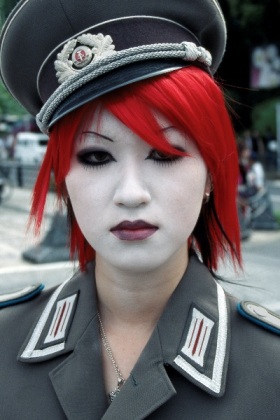 Harvey Benge - Tokyo Girl 2007
11am Sun 21 June: TALK – Harvey Benge with Ron Brownson on Bookworks. "I work between Auckland and Paris. My interest lies in the strange anthropology of cities, observing and making photographs of the unusual and overlooked in the human landscape where nothing is as it seems. I make photographic series which evolve into bookworks." Harvey Benge. Auckland Art Gallery, Auditorium. FREE. Don't miss this.
And the following Sunday:
Sunday 28 June 1pm; TALK - Sandy Callister – New Zealand's Great War Photography.
Part of the Public Programme for the Exhibition - ANZAC PHOTOGRAPHS BY LAURENCE ABERHART - Many of the 100,000 New Zealanders who went overseas to fight in WWI carried cameras with them, determined to capture their part in the 'great adventure'. Soldiers were not the only ones to take photographs: cameras were also used by officials, journalists and medical staff. Join Sandy Callister, author of The Face of War: New Zealand's Great War Photography for a revealing and candid illustrated talk on the images of WWI. The book will be available for purchase on the day. Auditorium. FREE.
---
Auckland Photo Blog - June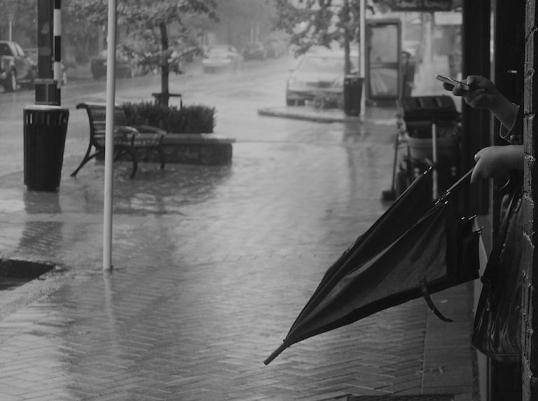 May - Photo of The Month by Paul Craze, Rainstorm Text. Congratulations to Paul for this lovely street scene of someone sheltering from the May rain.
The June 'Photo of The Month' for the "Auckland" theme will win a bunch of stuff to celebrate the great region we all share.
Photo of the Month June 2015 prize pack - All about enjoying Auckland - 1 winner only - $100 movie vouchers, a voucher for Waiwera Private Spa for 2, a voucher trip to Rangitoto Island for 1, plus 1 voucher x bungy jump off the Harbour Bridge and a dinner voucher to the value of $150 - No vouchers are transferable for cash. But we'll give the winner in addition to these great experiences a cash bonus of $200. Judges decision is final, announced in early July.
Open now to 30th June, 9 entries per photographer. See terms and conditions on our website.
Full calendar of exhibitions and events on our website.
---
Festival Media 2015
For full coverage of what's been said and what has published see our media page on our website.
In the Weekend Magazine for the NZ Herald on Saturday was a feature on The Imperial Body by Fiona Amundsen at Gus Fisher Gallery.
D Photo on Facebook continues it's Festival coverage with Kate van der Drift at Sanderson Gallery in Newmarket.
Radio New Zealand recently interviewed Leon Rose about his new book and exhibition, whilst his show is now closed, you can hear him talk about his project "Live, Train, Fight like Thai".
The Eye of Photography feature writer Alison Stieven-Taylor has covered this year's Signature exhibitions, interviewed PJ Paterson about the Annual Commission and more - the Sydney interview when Alison Stieven Taylor talked to Julia Durkin, Public Participation Director about the what feeds the Festival programme and audience generation. Great to see the May Photo of the Month by Paul Craze from our Auckland Photo Blog featured too!
---
Asia Pacific Photoforum - August 2015
So as we head into the last few days of the Auckland Festival of Photography, dont forget to start planning your visits to our partner Festivals in Japan, Malaysia and Australia in August, here in strict chronological order, you could start in Japan at Higashikawa in Hokkaido from 7 - 10 August plus extended exhibition times, then head to Obscura Festival of Photography in Penang, Malaysia 14 - 22 August 2015 and/or go straight to Ballarat International Foto Biennale in Victoria, starts August 22 through to September 20.
In Higashikawa Intl Photo Festival you can enjoy the best of Japanese photography, whilst also celebrating the wonderful achievement of NZ photographer Anne Noble, ONZM, who is the recipient of the 31st Higashikawa Overseas Photography Award at this year's Hokkaido event. Anne Noble is Distinguished Professor of Fine Arts at Massey University, Wellington and one of New Zealand's most respected contemporary photographers.
Over in Penang in Malaysia at Obscura Festival of Photography there are several excellent Masterclass & Workshops happening with leading artists like Maggie Steber and Ian Teh, plus all sorts of great exhibitions and events on offer, see their website here for more details. Obscura runs from 14 - 22 August 2015.
Then for those wanting to stay closer to home, book to go to Ballarat International Foto Biennale where you can have your Portfolio Review and see some great international photography, starting 22 August - see more details on whats on offer on the BIFB website.