Welcome to Festival Zone for December 2014. We wish everyone a Merry Christmas and a prosperous New Year. We hope you have a great summer holiday planned or simply enjoy staying home over the Christmas period.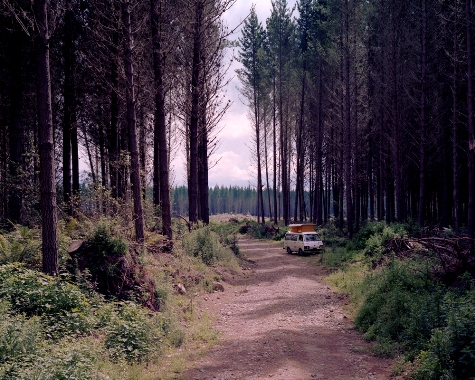 The Callers by James K Lowe - Annual Fine Arts Commission 2012 (part of his Like Home series)
---
2015 Annual Commission by Sacred Hill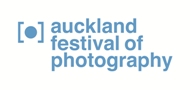 We are delighted to announce our 2015 Annual Commission is being presented by Sacred Hill. 2015 is a significant year for this new generation of Fine Arts work, it is a milestone celebration - 5 years - for this unique and highly anticipated annual Commissioned work. We are planning now for our next Festival shortlist which we will announce in January. We are also very excited to announce the recognition of this unique, successful Annual Commission project by Auckland Festival of Photography through our government Arts Board, Creative New Zealand who have awarded a grant to the project and it's international expansion in 2015 for an exhibition in China. More to come on this truly exciting development for the 2015 Annual Commission project in January. Thanks to Sacred Hill and Creative New Zealand for their continued support for the arts.

---
Auckland Festival of Photography 2015
We are planning now for our next Festival which will take place from 28 May to 20 June 2015. Expressions of interest are open until late January 2015 and new details on how to take part in the Fringe programme can be found on our website. As with this 2014 programme, the 2015 Festival programme is in three parts:
Themed : By Invitation - The new curated theme for 2015 is Truth and Fiction.
Expressions of Interest open now:
Signature : By Selection
Fringe : Open access & Administration Fee
---
Asia Pacific - Angkor Photo Festival

The annual gathering of Festival teams, curators and directors took place in Angkor Photo Festival on 4th December hosted by the team at Angkor and attended by Angkor, Auckland, Ballarat, Chiang Mai, Higashikawa and Obscura representatives. The new members who join the Asia Pacific Photoforum are Higashikawa International Photography Festival in Hokkaido, Japan, Obscura Festival of Photography, Penang, Malaysia and Shimmer Photographic Biennale near Adelaide, Australia. Next year's expansion provides additional opportunities for the promotion and presentation of New Zealand photography across our network. Part of this exciting new phase is the visit to Auckland in January 2015 by Aki Kumosoto, the Director & Curator of the annual Higashikawa Awards Exhibition at Higashikawa Festival in Japan. Aki will be visiting on a research trip to meet Higashikawa's selected shortlist of New Zealand photographers, these international awards take place in Japan annually and next year, New Zealand has been selected as the country for the award. The New Zealand recipient will be announced later in 2015.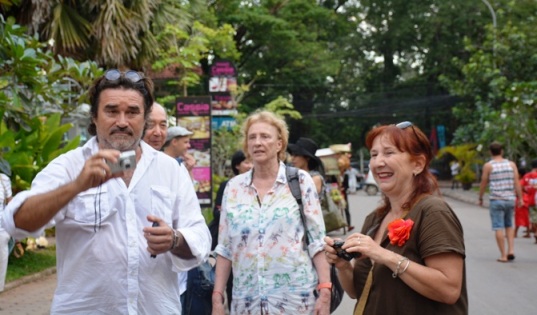 Jean Yves Naval, Director and colleague, Francoise Callier, Programme Director (middle), Angkor Photo Festival, 2014.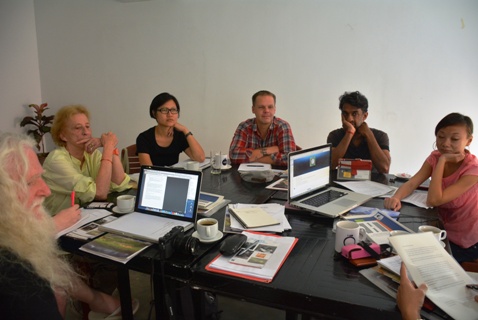 Asia Pacific Photoforum members, Jeff Moorfoot, BIFB, Francoise Callier, Angkor, Lee Kwun, Obscura, Ryan Libre, Chiang Mai, Vig Nachname, Obscura, Jessica Lim, Angkor. Joining the meeting were Moshe Rosenveig, Head On Festival, Sydney and APP Ambassador, Alasdair Foster, Australia.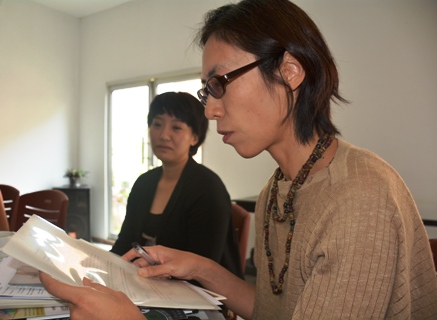 Asia Pacific Photoforum new members, Aki Kumosoto, Curator, Higashikawa Festival and Hiroko Yoshizato, Curator, Higashikawa Bunka Gallery read out a letter of appreciation from the Mayor of Higashikawa to the group for inviting them to attend and join. Welcome to Higashikawa International Photography Festival! More on the Asia Pacific Photoforum can be found on our Latest News and Facebook page, like us and keep up to date.