Welcome to Festival Zone for February 2017.
We have more great Festival preview news this month. We are pleased to confirm a Kiwi welcome for two excellent photographers from Asia to Festival 2017, part of the Talking Culture series, supported by Asia New Zealand Foundation.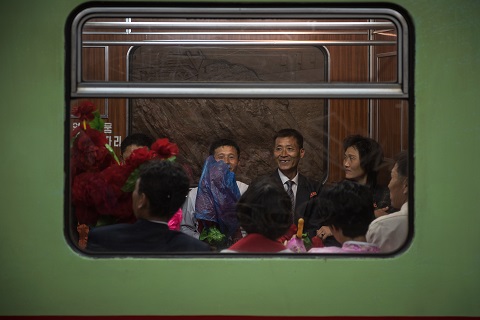 ---
'All The World's A Stage' – Scott A. Woodward (Singapore)
North Korea has been described as the most isolated country in Asia, difficult to access, politically provocative, an enemy of the West. It's nuclear programme, missile launches and military are it's trademark narratives, subsequently DPKR is one of the least photographed nations on the planet, in a world saturated by images of everything and everywhere. Heavily regulated access, strictly enforced laws create an unwelcoming environment where most photojournalists don't ever go. Each visit by any outside photographer is tightly choreographed with a minder to help steer the images that are taken eg North Korea doesn't allow outsiders to photograph its army, it's illegal.
It's mystery, hidden culture are supported by it's secrecy through the state run media, that are the only official news providers.
In late 2015 North Korea held massive publicly staged celebrations for the 70th anniversary of the Workers Party of Korea, which became the backdrop for Scott A. Woodward's visit, to cover the official celebrations, whilst also using the opportunity to go "off piste" from the official narratives, resulting in the series "All The World's Stage".
"This series of photography represents my experience as an audience member marvelling at the rehearsed mass spectacle that is North Korea, but more as a player endeavouring to peak behind the curtain, glimpsing brief and unscripted moments of the Hermit Kingdom's individual people." Scott A. Woodward.
We are delighted to show Scott's documentary work and have him attend the 2017 Festival in June. Scott will be taking part in our Talking Culture series and Portfolio Reviews over the opening weekend. His work features regularly in a variety of international publications, including National Geographic Magazine, GEO Magazine, The New York Times and The Washington Post. Thanks to Asia New Zealand Foundation for their support of Scott A. Woodward's visit and "All the World's A Stage" (Kaunas Photo Festival 2016, Singapore International Photography Festival 2016). Image credit - Scott A. Woodward - All The World's A Stage - Underground Railway 2015.

---
Asia Pacific Photoforum

Starting on 3rd February is the 9th edition of the Chobi Mela International Photo Festival in Dhaka, Bangladesh. One of Asia's most anticipated annual Festivals, and members of our network Asia Pacific Photoforum. This year's annual meeting of the APP is being hosted by Chobi Mela on 6th February, and our Public Participation Director, Julia Durkin, will be attending. As well as checking out the amazing exhibitions there, she is on the Portfolio Reviews panel with many esteemed colleagues like Dr Alasdair Foster, Adjunct Professor, RMIT, Nayantara Gurung Kakshapati, Director, Photo Kathmandu and Gwen Lee, Director, Singapore International Photography Festival.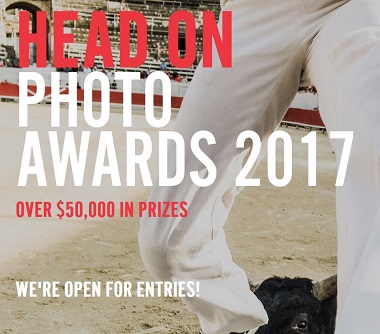 Head On Photo Festival have launched the Head On Photo Awards 2017!
Open internationally, with a prize pool of $50,000 in cash, equipment and software. Categories include: Portrait, Landscape, Mobile and Student - ENTER NOW!

---
Photobook Friday – Mayumi Suzuki (Japan)
Standby all photobook lovers, we have a special event for your hearts and minds this year, our first inaugural 'Photobook Friday" where we invite you to share some wonderful international and New Zealand photography, meet the artists, explore themes, discuss designs of the book themselves. Confirmed so far from Japan, the spiritual home of the photography book, from the artist run studio, Reminders Photography Stronghold, is photographer Mayumi Suzuki and her just launched book 'The Restoration Will". Mayumi will share her knowledge and work with you on Friday 2nd June.
Photographer Mayumi Suzuki's work since the 2011 Great Eastern Earthquake and Tsunami has been focused around the recovery and rebuilding of her home town, Onagawa. It has also focussed around the rebuilding of her own life through her own photographic projects since her parents went missing in the tsunami. Her recently published photobook, the 'Restoration Will' features found family photographs, new conceptual work about grief and loss and memory. The spiritual nature of the story is profound and deeply moving, the tale is universal of the love of a daughter for her father and mother, told by use of the found lens of her father to create images, she describes as 'talking' with them through images. Its importance to the Japanese photography scene, is how it fosters an 'other' world experience, through an altered state which is articulated in this handmade limited edition photobook. It speaks to the unfathomable event of March 11, 2011 and its ongoing consequences for Mayumi, whilst delving into a completely unique set of photographs and photobook which will be presented by Mayumi Suzuki in Auckland, New Zealand. More on Mayumi's work.
The 2017 Auckland Festival of Photography is the first to feature her work outside of Japan. Thanks to Asia New Zealand Foundation for their support of Mayumi Suzuki and her attendance to the 2017 Auckland Festival of Photography.
During 'Photobook Friday' we are exploring the themes around memory, remembrance, identity and art. This session will include the discussions by Shahidul Alam (Bangladesh) who's book "The Best Years of My Life - Bangladeshi Migrants in Malaysia" will be featured, as well as a select display of books such as the "Timor Runguranga: A photographic journey through Timor-Leste" by David Palazon. Eight years in the making, Timor Runguranga is the first contemporary photography book coming out from the youngest nation in Asia.
We will announce more on this exciting new initiative in the coming months including New Zealand photographic artists. Hosted by Auckland Libraries.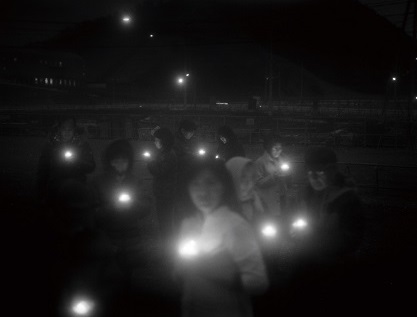 Image - Mayumi Suzuki from 'The Restoration Will'.

---
Satellite registrations 2017

Due to the two long weekends and short weeks we have extended the deadline for the Satellite exhibitions to 12th February.
Thanks to all the expressions of interests for our new Core programme, it's been a wonderful response and we are grateful to those artists, galleries and curators who continue to partner with us in collaboration for New Zealand's leading international event. Expressions of interest for the Core programme are now closed (were oversubscribed, whilst we hate to disappoint some of you, it's not too late to register for the Satellite).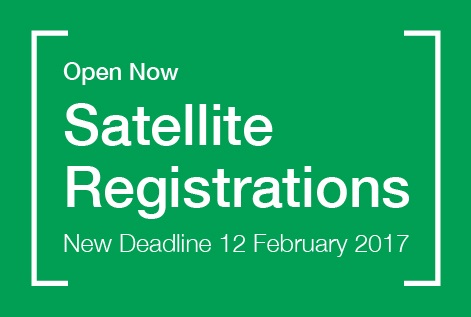 Get a Satellite exhibition registration done, and book yourself in, deadline (including an administration fee payment) is 12th February 2017. Both forms are available to download at Taking Part and read our FAQ too.
---
Donate now!

Looking to reduce your tax liabilty? Need an end of year tax write off on your books? Nah you just love photography and want to support the exhibition costs of the Festival Trust? We financially invest in our Annual Commission, Future Projections, Talking Culture events, Projections, Auckland Photo Blog (which need associated communications, promotion, technical support, other archive management costs, printing, technical support, installation costs, venue hire, volunteer programme). We are a registered Charitable Trust, CC38839 and have IRD donee status which provides you with a tax credit for the current tax year, so donate before 31st March 2017. If you require further information our charitable outcomes and operations please refer to the Charities Commission website. The Festival Trust is anually audited by BVO and has been audited since 2006.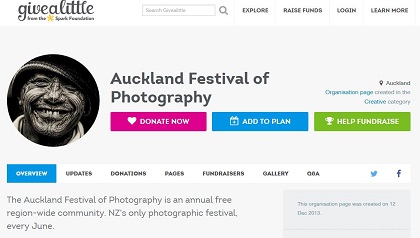 ---
Other News

Photival, a new Wellington event starts on 18th February through to mid March, it's a wonderful new season presented in association with the Fringe Festival and Goldfish Creative. Some exhibitions and work will deal with familiar headline issues such as climate change, homelessness, inequality, so it's great for Wellingtonians to have the chance to see this great work in their own city spaces. More on the programme here.