Nikon Auckland Photo Day winners announced
We are delighted to announce the 1st, 2nd and 3rd prize winners and Top 30 for the 2019 Nikon Auckland Photo Day. And Nikon Moving Image prize winner.
First Prize -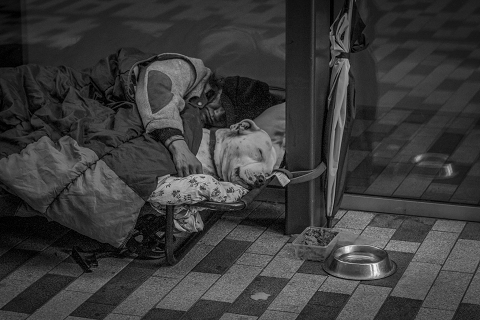 Woman & Dog by Neil Ihaia from North Shore
Congratulations to Neil Ihaia who wins 1st Prize, his prize is a Nikon D5600 Kit
Judges' comment: "The entries to this year's competition were of very high standard and made judging tough. We chose Woman & Dog as the winning photograph as the person's situation is raw and compelling. The photographer documents a powerful, moving moment of love and care, with a sense of citizen journalism. The merit of this image lies in the subject matter that you can't ignore, it is a portrait of Auckland's most vulnerable part of society. "
Neil Ihaia is a motorcyclist who does charity runs, is 60 years old and photography has been a hobby for about five years. "I do a lot of sports, not a lot of portraits. I was in Auckland and it was quite a tricky day to take pictures because of the weather. I was at Aotea Square and saw her there. Because of the way she is laying with her dog, and not many homeless people have dogs, I thought it would make a good photograph."
Full details of prize winners.
---
Beauty by Subtraction - Mazda Award 2019
The festival is pleased to announce Jiongxin Peng is this year's winner of the 2019 Auckland Festival of Photography Beauty by Subtraction - Mazda Award for the image Between Heaven and Earth.
This is the third year the Mazda Award has been presented and coincides with the launch of the 2019 Auckland Festival of Photography.

Entry to the Beauty by Subtraction - Mazda Award was open to any New Zealand photographer exhibiting in this year's festival and the winner will receive a $2000 cash prize and award certificate.
Sally Brownbill (Australia), director The Brownbill Effect judged the Beauty by Subtraction - Mazda Award said -
"It was a huge honour to be invited to judge this years 2019 Auckland Festival of Photography award, "Beauty by Subtraction" by Mazda.
I was thrilled to see the diversity in the images that had been entered into this year's award. Each photographer was able to interpret the brief in a personal way, which is very refreshing, given our exposure these days to imagery and ideas.
The winning image however, stood out as a shining light, not only for its strength of composition and technical prowess, but also for its interpretation of the brief. It was powerful and majestic at the same time. The concept of the arrow and the road also drew me in, with Mazda in mind, and felt that this was the perfect, well executed piece of work to win this award."

Artist Jiongxin Peng is showcasing his work, Black & White at Te Manawa – Westgate from 9 - 23 June. Black & White showcases nearly sixty photographs, including humanities, landscape and architecture. Part of the Satellite programme.