ABOUT US
The Auckland Festival of Photography is a city-wide contemporary art and cultural event which takes place within Auckland's major galleries, project spaces, non-gallery venues and public sites during June each year. The programme includes a mix of emerging and established artists and comprises existing works and creation of new work. The annual Festival is produced by the Auckland Festival of Photography Trust.
The Trust is a not for profit charitable trust working to further the presence and awareness of photography in Auckland through joint programming, audience development and profile raising activities. It is registered with the Charities Commission No: CC38839. You can make a tax credit donation here on our Give A Little page.
The Trust's goals and objectives are:
Supporting and encouraging local emerging photographers to develop and exhibit their work to the public in Auckland
Region-wide community partnerships and participation
Partnerships with relevant arts and cultural organizations and individuals in the art education and private sectors to facilitate the presentation of photography
A wide range of photographic arts stakeholders including public and commercial galleries and mainstream and cutting edge professional, exhibiting artists
Open-access programmes include indoor, online and outdoor exhibitions and "Auckland Photo Day" and our Awards programme and "Auckland Photo Blog" (online digital participation)
Representing cultural diversity through photographic exhibitions
Strengthen regional identity and assisting the development of cultural tourism in the region
Festival Trustees: Jim He (MNZM) (Chair).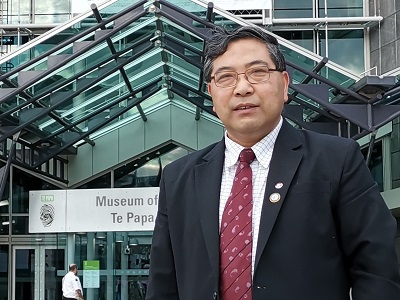 Jim migrated from Beijing of China to New Zealand in 1989 and became Trustee in 2013 and Chairman of Auckland Festival of Photography in 2016. He wears many heads in Communities and enjoys wide interests in culture, arts, photography, trade and other fields. Jim worked with Auckland Council on Auckland Lanterns Festival since 2000 and held Chinese Film Festival in New Zealand since 1998 and New Zealand Film Festival since 2002 which become continues event in alternative years. He chaired Pacific Culture and Arts Exchange centre holds many annual culture and arts events including stage performances, arts exhibitions, musical concerts etc.
He was decorated as Member of New Zealand Order of Merit" on Queens Birthday in 2013 by New Zealand Government for his contributions and achievements to film and community works
Founding trustee - Julia Durkin (MNZM), Trustee - Rachel Qi. Advisory trustee: Damian McLeod. Auditors: BVO.
The Auckland Festival of Photography is a founding member of the Asia Pacific Photoforum, a regional grouping of international photography festivals across NZ, Australia and Asia. Members comprise Ballarat, Chobi Mela, Fotografica Bogota, Head On, Higashikawa, Pingyao, Shimmer, Singapore and, of course, the Auckland Festival of Photography. The Asia Pacific Photoforum seeks to further the presence of photography across the Asia Pacific region as a medium for artistic expression and truthful dissemination of ideas and information in an increasingly globalising world. View the website at http://asiapacificphotoforum.com/
Foundation Member of