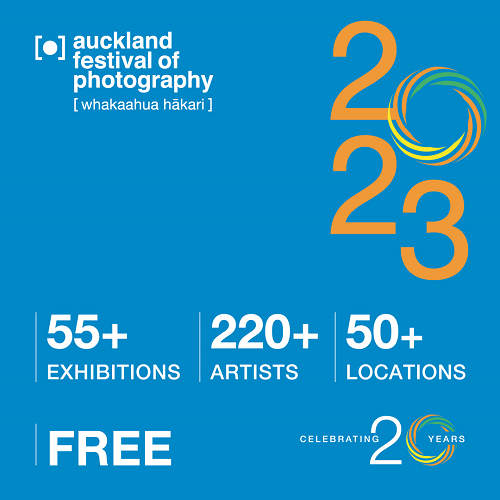 introduction - taking part
Auckland Festival of Photography is New Zealand's leading international photographic art & cultural Festival held across Auckland galleries, project + public spaces.

SUBMISSIONS - Now Closed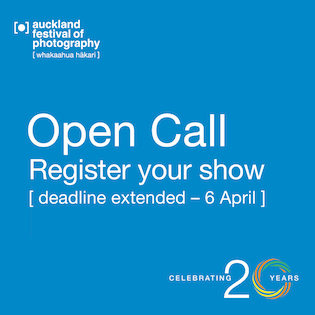 2023 is the 20th Edition of the Auckland Festival of Photography [AFP]
AFP Theme 2023: Resistance [ātete]
AFP dates 2023: 31 May - 11 June

We are open to programming any project created through the medium of photography and encourage active participation from a broad spectrum of talent including professional, amateur and young photographers. We encourage festival participation from all levels of exhibitors including dealer galleries, private and public venues, individual artists and community groups.
We aim to make festival participation as barrier free and inclusive as possible, in order to reflect and represent the diverse populace and points of view within Auckland.

Due to the ongoing impacts of the Covid-19 pandemic, the Festival Trust has agreed to continue simple changes to how the Festival programme will be delivered since 2022. Building on our strategy of outdoor exhibitions since 2007 and the introduction of an online programme for the 2020/21/22 Festivals, the 2023 Festival will again feature 3 key sections: In-Venue, Outdoor and Online.
TAKE PART
In-Venue
This key section will feature all exhibitions, events and activations that take place inside a gallery, community space or any indoor area. Traditionally these would include Core, Digital Screens, Satellite and Talking Culture - these now fit under In-Venue. During the festival dates In-Venue projects can take place anywhere across the Auckland Region, including but not limited to: Franklin, Papakura, Manukau, Waitakere, Auckland, North Shore, Rodney. See our FAQ's
Projects submitted for this key section should take place at least one week during the Festival dates: 31 May -11 June 2023, however projects can be included in the festival that take place from May for Music or Youth based work.

Enquiries for the In-Venue programme - please email Elaine: elaine.photofestival@xtra.co.nz
Online
This key section includes all online participation via: YouTube; Instagram; Facebook; artist/gallery websites; Mozilla Hubs exhibitions; Zoom talks or online panel discussions; or other digital delivery of public content that suits your particular work, project, artists or group. For more information about just presenting an online talk visit: Talking Culture
Submissions are open globally! This includes all Auckland based artists, as well as NZ wide and internationally based artists.

Projects submitted for this key section can take place from 1 May – 11 June 2023.
Enquiries for the Online programme - please email Rebecca: engage.photofestival@xtra.co.nz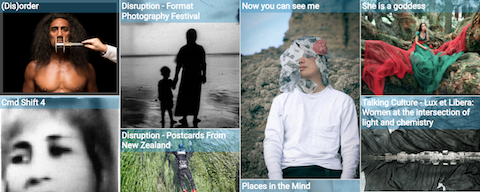 Outdoor
This key section will feature all outdoor activity. Participation can include work shown in windows, on billboards, fences, in private spaces or public ones where permitted.

Projects submitted for this key section can take place from 1 May – 11 June 2023.

Enquiries for the Outdoor programme - please email: info.photo.festival@xtra.co.nz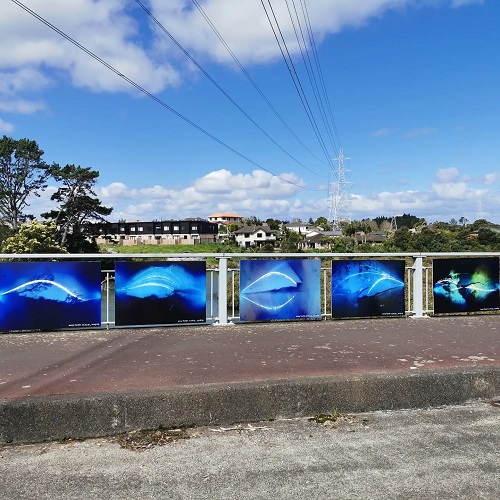 ----------------------------------------------------------------------------------------------------------------------
Participation administration FEE applies
All exhibitions and activiations require an administration fee. The Trust is registered with the
Charities Commission
No: CC38839. This is payable at the time of invoice and your exhibition/event/project details will only be published and promoted after receipt of this.
WHAT HAPPENS TO MY FEE?

The Festival team works all year round creating opportunities so that photographers from every genre can present their new work. We provide and maintain the platform, profile and network necessary to present you with the best opportunities to showcase photography in our annual Festival.

Festival exhibitors have the opportunity to join the 2023 community and be part of a Festival that showcases both international and national artists at diverse stages of their careers. All funds received as admin fees go towards the ongoing sustainability of the annual Festival and associated activities.
-----------------------------------------------
NZ based Artsits/Photographers - Check Out Image Auckland's Festival Awards:
Exhibition Award - Late Harvest
Music Photo Award
Youth Photo Award

Auckland Photo Day
--------------