one day, one city - 24 hours - midnight to midnight - every June - except 2023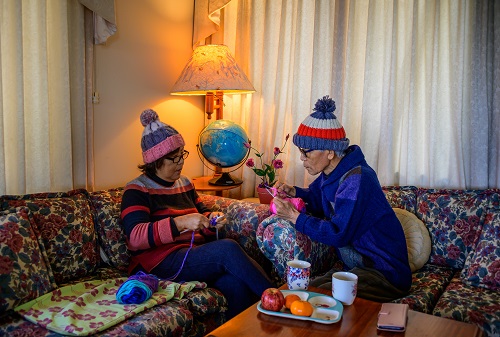 Hyun Duck Park; Knitting Lesson - Winner 1st Prize 2022 Auckland Photo Day
2023 - Auckland Photo Day is resting during this year's Festival June period, but we are hoping to make an announcement about a 2023 event/shoot later this year under our Awards programme presented by Image Auckland. Thanks for your interest in the 2023 Auckland Festival of Photography's open call and competitions.
Background

Auckland Photo Day is a community engagement project initiated in 2004 by the Festival as way to build democratic visual cultural currency and build an inclusive and equitable arts and cultural environment.
It invites anyone, anywhere in Auckland during a 24 hour shoot to share their perspectives of our region. It creates new on the day photos that offer democratic visual conversations about the place we live, work and play.
We want to see the fascination in the everyday, what is surprisingly different and what is comfortingly familiar. This event celebrates the many individual pockets of culture and identity present in New Zealand's biggest city by building cultural currency.
Whilst celebrated in a spirit of fun this event also fulfills the important role of documenting our life right here and now in the world we live in. A DAY IN THE LIFE of Auckland.
Previous participation has seen thousands of images taken by thousands of members of the community, professionals, enthusiasts, students, young, elderly, men, women, all shades of our rainbow across the Auckland region.
All images are kept in a digital archive for future generations.
If the photo is good enough to show your friends and family - your built-in audience - it might be good enough to win a prize in Auckland Photo Day. Groups, individuals, families, children - anyone with access to an imaging device is encouraged to take a photo or 3 of the scenes, people and places that reflect their Auckland region.
Photographs are kept in an archive for future exhibition and to provide a visual resource for the region. All images submitted are available to view for reference, research and limited use for promotional purposes under licence.
---
We want to thank the thousands of participants who have taken part in this popular 24 hour day in the life of Auckland competition since 2004.
As part of the archive and history of Auckland Photo Day to date, we encourage you to view previous winners and watch the Auckland Photo Day compilation on YouTube.
Media about winners:
2022
July 2021 - Scoop - "Home is where the knitting is"
July 2022 - NZ Herald - NZH; A Day In The Life
July 2022 - The Big Idea - Auckland Photo Day 2022 'Home knitting selfie' wins
June - Media Release - Home knitting selfie wins 2022 Auckland Photo Day - Final
2021

The Big Idea - Auckland Photo Day 'Saturday' themed black & white wins
Scoop - Auckland Photo Day reportage shot wins
Media release - Winner - All In It Together - Auckland Photo Day 2021
2020
Media release - Kindness portrait wins top prize in 2020 Nikon Auckland Photo Day
2019
The Big Idea - Winners 2019 Nikon Auckland Photo Day
Media release - Citizen Journalism wins 2019 Nikon Auckland Photo Day
2018
The Big Idea - Gritty sporting sub culture portrait by Nick Depree
New Zealand Herald - Nikon Auckland Photo Day winners revealed
Radio NZ - Michael Itkoff talks about Daylight Books and judging Nikon Auckland Photo Day
Media release - Gritty sporting sub culture portrait wins 2018 Nikon Auckland Photo Day
2017
Stuff - Waka race wins Photo Day Prize
Newshub Late - Winners of Nikon Auckland Photo Day
Media release - Waka at Takapuna Beach image wins Nikon Auckland Photo Day 2017
NZ Herald - Snap to it!
Stuff - Teenager first entrant to Nikon Auckland Photo Day
2016
Media release - Image Stacked in Memories wins 2016 NAPD
Scoop - Image Stacked with Memories wins
TV3 Newshub - Winners and finalists of Nikon Auckland Photo Day competition
Stuff - Nikon Auckland Photo Day 2016 winners
Howick and Pakuranga Times - Locals' photos shine
Botany and Ormiston Times - Local Photos Make the Grade